We created this list years ago as a way to assist vendors hoping to work with casino clients, but it can also be useful to new (or potential) casino marketers. While there are many casino terms, the following list represents those heard and used on a daily basis for casino marketers around the US.
Active — Cardholders that have played within a particular time frame (as determined by the individual casino).
ADT — Often used to determine offers by many operators, this takes the player theoretical (or how much the casino is expected to win) as an average over a period of time. This particular measurement us a snapshot of our expected win on a given day. Using this term with guests can be a bit of a service challenge when explaining things because the guest sees the price he or she paid simply as what he or she won or lost on THIS trip.
Actual — This means exactly what you think it is. Casino operators tend to look at a theoretical measurement when determining a reinvestment strategy because it eliminates the swing of actual good or bad luck on any particular visit. As marketers, we typically look to "actual" win or loss as a secondary option for determining a reinvestment strategy.
Advantage Player — This is a gambler who has developed an advantage over the house. Card counters are often considered advantage players, but slot players may also gain an advantage by experimentation and observation of games.
Bonus (Points) — Points that are awarded based on events other than play activity such as those awarded in a giveaway.
Buy-in —  Money exchanged for chips for play.
Cage — Location of cashiers.
Carded Play — Gaming revenue that is tracked by the presentation or use of a player's club card.
CMS — While most of the people working in the internet world think of this as a content management system, for us, it's our casino management system — the system that holds everything of value to us – guest play details.
Coin-In — The total amount of money played into a slot machine or video poker terminal. This could be from the guest's wallet or from the credits he or she earned on the device while playing it. As an example, if a guest plays $100 of his or her own money in a machine that rewards credits consistently, the "coin-in" could reasonably be upwards of $1,000 even though the investment was only $100. The coin-in measurement has become a popular way for players clubs to simplify the earnings of points.
Comp — A "comp" is a marketing tool designed to motivate longer play or develop player loyalty. Essentially, it is a perk given when a player generates sufficient theoretical (or, in some cases, actual) revenue for the casino. The casino may extend an offer of free slot play, meals, tickets to a show, gifts, and reimbursement for travel expenses as a reward and incentive to continue to play.
Core (Mailer) — The program of ongoing regular mail programs such as newsletters containing a month's worth of incentives, birthday cards, welcome, and past-due mailers.

DAP — Nope. This doesn't refer to the handshake popularized by African-American soldiers of the Vietnam War. This term refers to a disassociated person — an individual who has self-reported as a problem gambler, and as such, has requested to be excluded from the gaming floor. It is vital that this person not be marketed to, as the resulting fines are sizable.
Free Slot Play — By far, a highly-debated misnomer, the term describes the incentive offerings we provide to guests based on their monetary worth to us. The debate over whether this is actually "free" to the operators and the long-term impact of this reinvestment continues.
Hold — Refers to the amount the casino keeps as net gaming revenue. It is calculated by "Total in minus the amount paid out = hold." We usually see this reported as a percentage.
Inactive — Guests who have not played with their player's club card in a period as determined by the casino.
Junket — Typically offered to VIP players, this trip usually is fully comped in return for a
previously agreed to amount of play. Minimum deposits are generally required in advance.
Layering — The availability of multiple offers during any one visit.
MAR — Marketing expenses as a percentage of revenue, this may commonly be referred to as the cost of sales.
Offer — An incentive provided traditionally via mail to guests based on their history.
PD or Player Development — Similar to a sales team effort, it encompasses all activities by the casino host department to increase loyalty and revenue from high worth guests.
Point — Often refers to what guests earn through the players club as a result of rated play. Most casinos reward guests with points that can be accumulated for club status, comps, cashback, promotions, or free slot play. We refer to these as "points" because it's typically a more natural way to explain what a guest has earned and what they can get in exchange.
Proforma/Postforma — A document which reports potential (proforma) and actual (postforma) profitability of any program.
RFB — A comped stay that includes room, food, and beverage. Lesser comps are sometimes marked as an example as "R" for room only.
RFM — Often used to determine incentives, this formula takes into account a guest's recency of visit, how frequently they visit, and their spend.
Rated — When a guest inserts his or her player's card into a slot machine, they are choosing to allow us to record play. In turn, this play rated according to the recorded coin-in and the hold percentage of the games they play. We consider rated play when deciding how to reinvest and stimulate additional or longer trips.
Reactivation — Converting inactive guests to active.
Retail — This is a term that can vary. Some operators use the phrase "unrated" to talk about this group. It is typically the volume of play generated without card usage.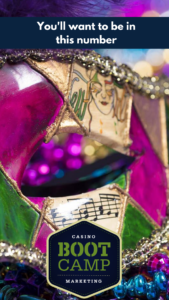 Theo — In some ways, this can be considered the "price" a guest pays to play. Unlike retail outlets where the price is disclosed, casino pricing is based on a theoretical win or what the casino can expect to win over a period of time.
Tier — Defined group in the players club program.
Time on Device — This phrase refers to the amount of time a guest can play on any slot machine relative to their "investment." The time is a result of the hold and the paytable associated with the device, providing credits to extend play time.
Visit — A unit of measurement that begins with the start of play or redemption of an offer until closed. In frequency markets, this may be calculated in single days. In destination markets, multiple days may be considered as a single visit.
There may be operator-specific terms, and the usage may vary. Still, if you start using the industry language in your daily conversations, it might make you look that much more experienced!