If you are a marketer, staying up to date on the latest marketing trends and developments is important. Attending marketing conferences is one of the best ways to do that.
You are in luck! There are a ton of marketing conferences available, but it can be tough to choose which one is right for you. You want to ensure that the content you are getting is relevant to the casino industry. Additionally, you want it to be relevant to your operations. We market resorts differently than regional operations. We market differently when we have a competitor down the block versus 2 hours away. Additionally, all marketing techniques are not great fits. Some will be effective. Some will not.
It can be overwhelming to try and decide, especially when there are so many great options.
How can you decide which ones to attend?
HOW TO CHOSE
Marketing conferences are great places to learn new skills, network with other professionals in your industry, and connect with potential clients. As a marketer, staying up to date on the latest industry trends and best practices is vital. Attending marketing conferences is also great for networking with other professionals, learning from industry leaders, and gaining new skills. It can be difficult to choose which ones you want to attend, and even trickier to build a case for your boss to approve the expense.
There are a few considerations that can help you narrow down your options.
Topic: First, identify the main topics you're interested in learning about. Many conferences offer multiple tracks with different focus areas, so narrow down your list of options by choosing those that align with your interests and what will provide value to you and your company. Conference agendas can vary widely, so it's important to ensure that the conference you're considering will offer sessions on topics relevant to your work. Are you looking for an overview of the latest trends or want to dig deep into a specific topic?
Size: Consider the size of the event. Conferences can range from large trade shows with hundreds of exhibitors to smaller, more intimate gatherings. Third, consider the location. A smaller conference may be a better fit if you want an intimate setting to network and build relationships with other marketing professionals. On the other hand, if you're interested in hearing from various speakers on various topics, a larger conference may be a better option.
Location: Are you willing to travel for the conference? If you are willing to travel, consider conferences that are being held in different parts of the country or even internationally. If not, look for events taking place in your city or region. There are still many virtual options available, and some conference organizers have added a digital aspect to the content in-person attendees will receive.
Cost: Finally, think about your budget. Conferences can range in cost from a few hundred dollars to several thousand, so it's important to choose one that fits within your budget. Make sure you're aware of the conference fee before making your decision. Some conferences offer discounted rates for early bird registration or group discounts if you register with colleagues. You should also consider travel, hotel, and meals. We have provided a budgeting spreadsheet for those interested in attending Casino Marketing Boot Camp. It was a great idea we saw another conference using it!
Schedule: Consider the dates of the conference and whether you will be able to take time away from work or other commitments. Some conferences span multiple days, while others are shorter "intensives" that pack a lot of content into a shorter time. Take a close look at the agenda for the conferences. Some opt to end midday, allowing attendees to depart early enough not to lose an additional day at the office. Choose an option that works best for you.
Considering these factors, you can narrow your options and choose the right marketing conference.

My Marketing Conference Dream Team
While I have not been lucky enough to attend EVERY marketing conference, I have attended some that I plan to repeat, and somewhere I would love to see you sitting nearby or while networking.
The Casino Marketing and Technology Conference is back and being managed by the fine folks at Raving Consulting & Tribal Gaming & Hospitality. Since 2006, this conference has brought together p marketers from across the gaming industry. Attendees include casino operators, suppliers, consultants, and technology providers. It IS the OG of casino marketing conferences.
This conference combines 20+ hours of content for tribal, commercial, and online casino marketers and is one of the best vendor experiences. The tradeshow is very comfortable and manageable. A bonus is earning University of Phoenix college credits for attending.
The Global Gaming Expo (G2E) is one of North America's largest gaming trade shows, bringing together hundreds of exhibitors from around the world. G2E offers attendees the chance to meet face-to-face with game developers, publishers, retailers, and distributors while networking with peers and learning valuable information about the latest trends in the industry.
The educational content of the show is world-class, drawing from the knowledge and insights from in and out of the casino industry. G2E's education program is curated by the industry for the industry, providing actionable insights for today's trends and challenges and defining the future of our industry.
The Indian Gaming Tradeshow (IGT) is one of the longest-running gaming trade shows in North America. Held annually, the event attracts thousands of attendees from around the world. In addition to showcasing the latest products and services related to casino operations, the show features educational sessions, networking opportunities, and plenty of fun activities.
Education covers the gambit of gaming – from traditional slots and table games to sports betting and emerging gaming – resort operations (including hospitality and marketing), enterprise development, politics and policy, sovereignty and more. With this broad span of topics, there is content relevant for everyone.
Self-promotion alert! We developed Casino Marketing Boot Camp 5 years ago to provide casino marketers with real actionable insights. After realizing how easily real life interrupted me from taking all the great ideas I collected at conferences into reality, I knew an immersive, interactive setting could make implementation a reality. Casino Marketing Boot Camp was born.
The Boot Camp experience is a single-track, 360-degree casino marketing workshop that now features a Card Shark Tank. You'll learn how to use casino marketing techniques to attract new customers and keep them returning. You will learn (by experience rather than lecture) how to use casino marketing techniques to attract new customers and keep them coming back and how to become the most valuable member of your casino team.
And, because we limit the number of attendees, Boot Camp has expanded into the regional markets of Biloxi, MS, and the State of Washington, with more sites on the 2023 drawing board.
The best marketing conferences allow participants to attend sessions led by experts in their field. There is no denying that social media, SEO, email marketing, content creation and digital are vital to our marketing and to remain relevant with our target audiences. Social Media Marketing World is the destination to get all the information you need in one place. In addition to learning from top marketers, you'll be able to network with fellow attendees and build relationships with companies.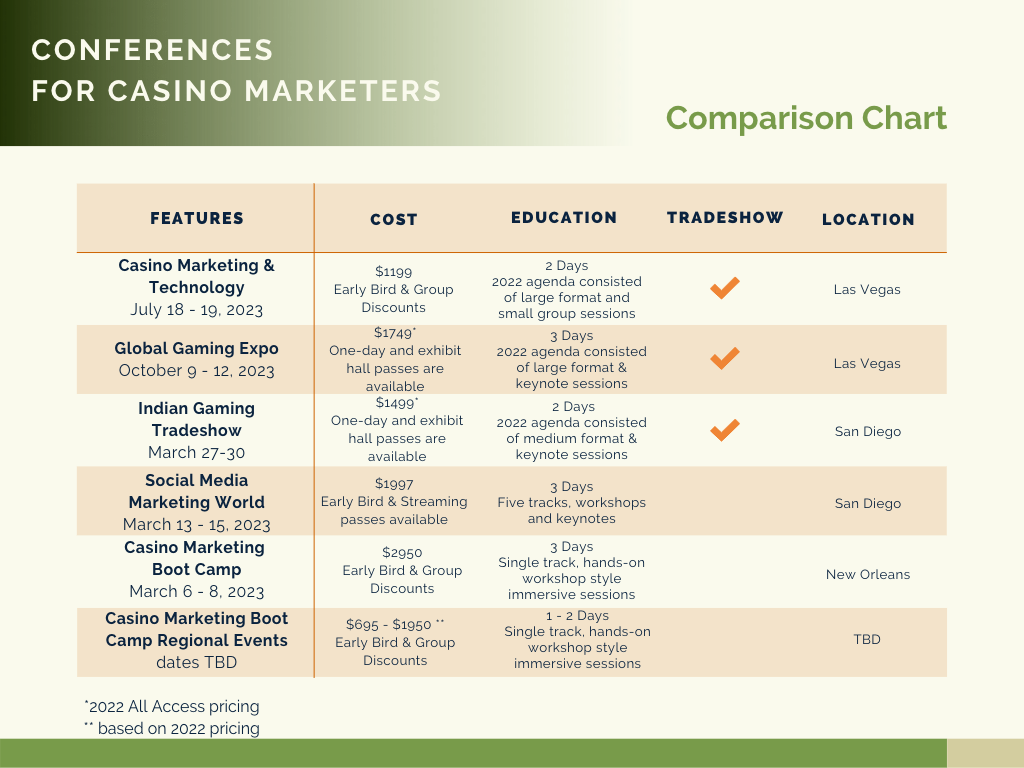 Regional Casino Association Conferences
There are more than dozens of regional conferences held throughout the year. Each conference has its unique speakers, topics, and activities. These events provide an opportunity to network with other industry professionals, learn new skills, and gain insight into what's happening in the world of casino gaming and marketing.
Overall, there are many factors to consider when choosing a conference to attend. With so many options available, it can be difficult to decide which one is right for you. But if you take the time to research and weigh your options carefully, you will be sure to choose a conference that's valuable for you and your career. I hope this article has helped you in your decision-making process. And remember, if you need any assistance planning or preparing for a future conference, I'm always here to help. What conferences are on your calendar for 2023? Let me know in the comments below!