Prefer to listen? Listen to Drivetime Marketing on your favorite podcast application.
If you are involved in the casino industry, you know how lucrative it can be. It is also a great place to start and develop a marketing career in one of the most exciting industries. The only way to ensure that you have a successful long-term business and profession is to keep up with the competition, invest time and funding into effective marketing, and have the skillset for success. 
As Liam Neeson would say, casino marketing requires a particular set of skills. While the skills marketers need have undergone a dramatic shift, the changes in the casino industry have only accelerated the need to keep up – changes in staffing, customer retention and acquisition, and new tools and channels.
In 2019, the US casino industry reported revenues of $43.6 Billion. That was up nearly 4% from 2018's record. Then COVID-19 reared its ugly self. We closed. We reopened and attempted to return to our everyday lives.
American Gaming Association President Bill Miller described 2021 as a remarkable year. He was referring to the expansion in gaming and how customers were responding to our products. As an industry, we managed to break the 2019 record by 21% in 2021, reporting $53 Billion in revenue. 
It was also a remarkable year for marketing.
The casino industry can be lucrative, but competition is often fierce and shows no signs of easing. That's where casino marketing comes in. 
The only way to ensure that your casino business keeps pace with its competitors is to invest time and funding into an effective casino marketing strategy and a solid plan and appropriate tactics. 
Casino Marketing Skill #1: Casino 101
A casino is a very distinct business entity. It is different from almost any other kind of enterprise, which means that marketing approaches for casinos are markedly different from those of other types of companies. Your target markets, expected returns, and many other important considerations are unique to the industry. Industries vary, but working in a casino might be the most exciting job you'll ever have.
For a beginner in casino marketing, knowing the language of the casino is hugely important. You need to know what terms like ADT (a measurement of expected winnings on a given day) and CMS (casino management system) mean. Additionally, changes in communications channels have added even more terminology we need to know.
Casino Marketing Skill #2: Understanding and Using Data
Databases are critically crucial for casino marketers. Understanding and analyzing how your guests visit and make their bets give you a much better chance of enticing them to visit more, extend their time, or increase their betting.
A key factor here is the identification of types of gamblers. Although the games might seem the same, there will be wide diversity in the kind of guests you will see on the floor.
Some bettors go to the tables with $50 to lose and nothing more. No amount of smart marketing will squeeze much more money out of a player like this. However, the person sitting next to them could drop hundreds or thousands in a night without batting an eyelash. For a variety of reasons, both could be valuable to your operation. Database assessment is key to identifying and targeting your most valuable guests and maximizing your investments down to the daypart.
The importance of data and its role in driving visits and revenue can't be overstated.
Today even the advertising coordinator needs to understand data. The amount of information we can collect from our social profiles, web analytics, SMS, and email efforts is enormous. 
Dan White of Dan White and Associates did a great Casino Marketing Boot Camp session for us this Spring. It was one of the top-rated sessions because he connected the dots between the marketing efforts and the data (rather than walking us through spreadsheets) so that even the most non-analytic of us in the room was inspired. Those who were there will know what I mean when I say,  "CHUD." 
Casino Marketing Skill #3: Segmentation and Direct Marketing 
When it comes to marketing a casino, the battle is won or lost at the mailbox, whether it be the one on the curb, your computer, or even in the palm of your hand. There is no argument on that point. 
As I mentioned before, you will have a wide variety of guests visit you. They may differ in how much they spend. They may vary in how they visit. The process of identifying and categorizing these guests is called segmentation. Once you have identified the segments you want to target, your next step is direct marketing which allows you to focus your marketing resources on those targets by, for example, emailing them offers or invitations to special events.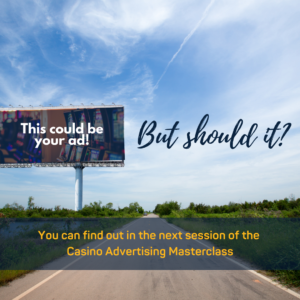 And again, there is more to segmentation than just direct marketing. Adele George and I co-teach the Casino Advertising Masterclass. Believe it or not, the database and the segmentation strategy can play a significant role in considering media planning and creative. 
Whether you are a direct mail manager or an advertising coordinator, segmentation is a critical skill in the arsenal of the casino marketer.
Casino Marketing Skill #4: Understanding Your Guests
To be truly successful, you must understand what brings a casino guest in (in the first place.) What persuades them to stay? What will motivate them to return? 
Casino operators must maximize these attributes relative to the competition. 
A key consideration in this is the use of the human touch. 
As automation pervades some customer service areas, it can be tempting to let yourself get swept away in it. Machines don't require training, holiday pay, or lunch breaks; they can, therefore, cost you much less over the long term than a human employee.
However, there are certain things that you should never leave to a machine. You should always have someone to welcome guests to the casino. Greeting and recognizing guests, especially in a competitive market, can be the differentiation that sets you at the top of the visit list.
Even to an expert in casino marketing, this can sometimes feel like a costly strategy. It is difficult to justify the investment of money and time in a human employee when a machine could perform the same task at a much lower price. 
Some operators use robot bartenders and devices to deliver requested items to guest rooms. They are all fun to experience, but humans will always crave human interaction. 
Nothing makes people feel welcome like the human touch. If you don't give this to your customers, they might seek (and get) it from one of your competitors instead. 
Automation simply to save costs could damage your brand in the long run. Therefore, you must balance these decisions with the desired and expected guest experience. 
Casino Marketing Skill #5: Social Media and Guest Engagement
We live in an age where social media rules the marketing roost. That was not the case for casino marketers just a few short years ago. However, today, platforms like Instagram and Facebook grab the attention of billions of people every day, and the restrictions brought about by the COVID-19 pandemic only created more interest and utilization of social media. Moreover, the number of channels continues to expand. 
As casinos were forced to close their operations and then reopen with varying health and safety recommendations applications, we received further proof that social media is no longer just a nice to have. To keep stakeholders in the know and interested, you need to use these online channels. 
We must be present. 
We must be engaging. 
We must be responsive. 
Additionally, as our use of these channels evolves, we must consider our brands and how we are portraying them. The next time you happen to be on your Instagram profile page, scan through the images and ask yourself, "Does this look like my brand?" 
Ask yourself, "Does this look like something my guest would be interested in?"
Casino Marketing Skill #6: Own Your Online Presence
Recently we spoke to a potential client about a possible marketing project. He was involved in E-commerce and did not have a website. He was doing 100% of his sales through social media channels. 
I realized I just finished extolling the importance of social media but owning your online presence is crucial to any business. It gives you the freedom to organize your information so customers will be able to navigate easily. It allows you to create a history of your company. And more importantly, you will never have to shift strategy when someone decides you are no longer allowed to post something they disapprove of or that there will be a limit on how many people will see it. 
Additionally, as operators expand into social and online gaming, you will have a way to engage current customers and attract new ones who may discover you online and then visit you IRL. Gamification should be a tool you use regularly.
Casino Marketing Skill #7: Search Engine Optimization
Search engine optimization (or SEO) is something most casino operators only consider when they have something to sell online such as hotel and restaurant reservations, gift cards, or tickets to events. But search engine optimization is one of the essential marketing tools you should understand. 
The higher you rank when people are searching for a casino, the more chance there is your site will be the one they choose to examine. 
Getting found online is not as simple as building a website. With nearly 1000 commercial and tribal casinos in the US, the competition to be found online is fierce. Casinos compete for the top positions in search results, maps, directories, and more with every click. Moreover, as we develop social and online casinos, it will only get more competitive. Therefore, getting your SEO game in order is probably near the top of your list, or at least it should be. 
Content marketing is typically a B2B tool but is closely related to SEO. Both are used in successful strategies. Rather than manipulating search engines to drum up business, content marketing focuses on creating helpful content that people want. Potential customers see it and are compelled to explore it further. 
Both content marketing and SEO are known as inbound marketing tactics. Rather than pushing a customer through your door with an ad or an offer, they are drawn in because of the content. 
Content writers achieve this by understanding their customer personas and the questions they are trying to answer through an online search. Keyword placement, structured linking, and the focus on readability are all variables to be considered. A casino SEO strategy might attempt to rank for search terms like "casino near me" or "how to play blackjack." The role of the content writer would be to create the answers to those questions. 
Chance to Win
You would not think casino marketers would be involved in the chance to win, but operators choose to establish a winning or losing experience. As the person responsible for drawing guests in, you want to ensure the gaming experience matches the communications and your brand promise. 
Successful casino marketers are usually as involved with gaming operations as they are with the offers they put in the mail and their advertising messages. 
Bet on Marketing
Because marketing, like the industry, is going through a massive shift, successful marketers have to ensure their skills are ready to meet the challenges of today and tomorrow. 

​
Born out of our passion for elevating casino marketing, Casino Marketing Boot Camp is a collection of training options created BY casino marketers FOR casino marketers.
– March 2023 – Three-day small group intensive training with hands-on experiences, real-life challenges, and straightforward strategy.
– Casino Advertising Masterclass – virtual training to teach you how to connect advertising efforts to business goals, create messages that resonate, and manage budgets effectively.
– Regional and custom on-site Boot Camp designed to address your specific needs
– And more training in the development
Let's talk about your marketing training needs.